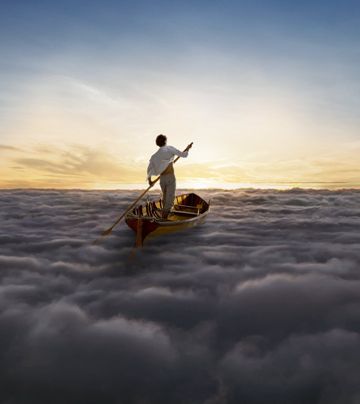 Pink Floyd has unveiled details of the upcoming double album "The Endless River" — a tribute to the late Richard Wright that the band calls his "swan song."
"Endless River" consists of reworked unreleased tracks that began life in 1993. Still, guitarist David Gilmour calls it very much "a 21st century Pink Floyd album."
This means early November will see Pink Floyd's first album of unheard material in decades.
" 'The Endless River' is a tribute to Rick" — the band's keyboardist who died in 2008 — drummer Nick Mason said. "I think this record is a good way of recognizing a lot of what he does and how his playing was at the heart of the Pink Floyd sound."
Guitarist David Gilmour said: "Over the last year we've added new parts, rerecorded others and generally harnessed studio technology. …
"With Rick gone, and with him the chance of ever doing it again, it feels right that these revisited and reworked tracks should be made available as part of our repertoire."
The tracks date back to the sessions for "The Division Bell" album, and are almost exclusively instrumental. Some were recorded at that time and another "60 percent" are "based on" material from the sessions.
Bassist Roger Waters was not a part of the "Division Bell" band and did not participate in restoration of the unused music. There had been talk at the time of "The Division Bell" of releasing an album of ambient tracks from those sessions.
"The Endless River" arrives Nov. 10/11 in all major formats, with a "Life of Pi"-like cover designed by young Egyptian artist Ahmed Emad Eldin. (Longtime Pink Floyd cover designer Storm Thorgerson died in April 2013.)
There are 18 tracks, only one of which, "Louder Than Words," has lyrics, written by Gilmour's wife Polly Samson (who co-wrote many of the "Division Bell" lyrics).
There are several versions of "The Endless River." The package of choice appears to be a deluxe box including a bonus Blu-ray with high resolution 5.1 surround sound of the album (DTS Master Audio and PCM), as well as PCM stereo. "Audio visual material" runs about 40 minutes and there appear to be some bonus tracks. There also is a box set with a DVD (NTSC) instead of the Blu-ray. The Blu-ray "casebook" edition lists for just north of $32 on Amazon.
Also on offer are a standard CD and a double-vinyl LP with gatefold sleeve.
The album's working title apparently was "The Big Spliff" but since morphed into the Walmart-friendly "The Endless River."
No mention has been made of concerts or tours connected with the album.
Waters, to no one's surprise, took to social media to distance himself from the project. Waters wrote Sept. 30:
I left Pink Floyd in 1985, that's 29 years ago. I had nothing to do with either of the Pink Floyd studio albums "Momentary Lapse of Reason" and "The Division Bell," nor the Pink Floyd tours of 1987 and 1994, and I have nothing to do with "Endless River." Phew! This is not rocket science people, get a grip."
In July, Pink Floyd released an ambitious expanded version of "The Division Bell." It's a multiformat box set featuring remastered discs. Included in the 20th anniversary box set were a Blu-ray with the album in HD stereo as well as a 5.1 audio mix. Basic info about the "Endless River" project was leaked about the same time.
The Pink Floyd trio's "The Division Bell" received mixed reviews in 1994 and proved to be the band's last release of original material. Gilmour sang all of the non-instrumentals.
Here are the tracks for Pink Floyd's "The Endless River," arranged across 4 "sides":
Side 1
Things Left Unsaid
It's What We Do
Ebb and Flow
Side 2
Sum
Skins
Unsung
Anisina
Side 3
The Lost Art of Conversation
On Noodle Street
Night Light
Allons-y (1)
Autumn '68
Allons-y (2)
Talkin' Hawkin'
Side 4
Calling
Eyes to Pearls
Surfacing
Louder Than Words
More Pink Floyd content: