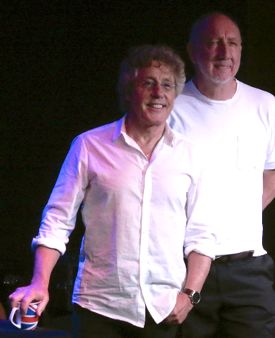 Looking "to complete a thorough trawl of their archives," the Who is reaching out to fans for archival material.
"Anything that is out there that anybody's got that they think we might be interested in" should be in touch, said band songwriter and guitarist Pete Townshend.
The Who organization followed up on Townshend's plea of a month back, confirming they're in search of "rare and lost recordings."
"The band is looking for rare radio and TV performances, home movies from gigs, extraordinary bootleg material, demos, unusual photos and memorabilia for their 50th anniversary releases," a press release of Aug. 5 said. "If you think it's rare, we'd like to see it!"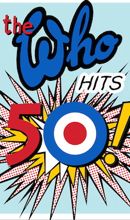 The band — a duo, really, of survivors Townshend and singer Roger Daltrey — talked about the search for rareities during their press event in London in support of the U.K. tour that begins in November.
The Who is celebrating its 50th year with the tour and the late October release of a "Who Hits 50" CD compilation.
Townshend told reporters at the Ronnie Scott's jazz club that they'd even be interested in "radio interviews on cassette — snips of Keith Moon being funny," that sort of thing.
Daltrey brought up the remarkable find in 2002 of the 6-minute clip "The High Numbers at the Railway Hotel." The high-quality performance by the band that would become the Who was located in a loft in the Netherlands" (video below).
"That (originally) was an hour of film," Daltrey said. "Somewhere the rest of it must be out there. … And it would be wonderful to see."
If your collectible item is used, the Who promises full credit and, if it's really cool, a pair of VIP tickets for a concert. Contact: thewho(at)umusic.com
Townshend said he's written new material and perhaps it'll lead to an album: "I thought I must send (the songs) to Rog. … Happily he likes them,"
Daltrey said of the band's future: "We can't go on touring forever, but we don't know how long we will go on touring. It's an open-ended kind of thing. But it will have a finality to it. We'll stop touring, I'm sure, before we stop playing as a band.
"It's just like Eric Clapton's just said: It's the grind of the road, it's incredibly tough on the body this age. The singing is free; you pay us for the bloody traveling."
Townshend says the tour fare will include "hits, picks, mixes and misses" — including deeper cuts from the catalog for hardcore fans. "Dogs Part II" and "Now I'm a Farmer" came to Townshend's mind, sort of.
The Ronnie Scott's press event on June 30 featured the duo performing in an acoustic format, but with quite-familiar tunes: "Substitute," "The Kids Are Alright," "Bargain" and "Won't Get Fooled Again."
The 50th anniversary tour begins Nov. 26 in Dublin and ends Dec. 17 at the O2 in London. And, yes, there's a gig in the band's legendary tour stop of Leeds.
Townshend, leader of the band that became famous singing about not growing old, joked that he was trying to stay young: "Not wearing socks. Growing a great big woodcutter's beard. Might even wear a check shirt on stage and get a tattoo of a Union Jack. Always a fashion victim.
"But under no illusions. We are what we are, and extremely good at it, but we're lucky to be alive and still touring."
Read about "The Who Sell Out," No. 42 on our list of the top psychedelic rock albums.