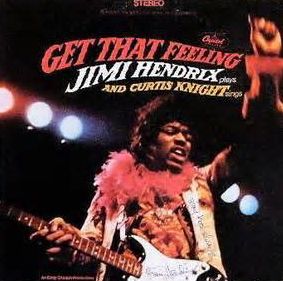 The early recordings of Jimi Hendrix are headed for rerelease under the guidance of his longtime engineer, Eddie Kramer.
The Hendrix family (Experience Hendrix) announced the acquisition of "the full and complete rights to 88 studio and live recordings made by Curtis Knight & the Squires featuring Jimi Hendrix in 1965-1967."
The name Curtis Knight may bring a shudder to psychedelic music fans who were around in Hendrix's day, because of the release of albums that featured Hendrix on the cover, but were for the most part Knight recordings of limited musical value.
"Get That Feeling's" cover (1968) featured a picture of Hendrix in full Monterey Pop mufti, but the music was mostly pedestrian R&B and soul with the guitarist working as a sideman or jamming with Knight. "Jimi Hendrix Plays and Curtis Knight Sings," the subhead noted.
"The record is barely representative of what Hendrix is now doing and is an embarrassment to him as a musician," Rolling Stone groused at the time. Hendrix himself called it "musically worthless — a confetti of tapes hastily thrown together."
The Knight-Hendrix recordings surfaced in various other forms over the decades. In 2000, they were released as a six-CD German set that remains available on Amazon.
The 88 tracks acquired by the Hendrix estate generically are known as the PPX recordings, owing to the long-disputed stewardship of producer Ed Chalpin and PPX Enterprises. In 1965, the then-sideman Jimmy Hendrix had signed a 1 percent royalty rate deal with Chalpin that was to run for three years.
"Hendrix's 1965 agreement with PPX became the source of a string of legal battles running from the 1960s into the 21st century," Experience Hendrix noted in publicizing the deal for the recordings.
In 1966, Hendrix started his own band, Jimmy James and the Flames, and was subsequently discovered by Animals bassist Chas Chandler. The guitarist then set out for London, soon earning global fame as a pioneering psychedelic music artist. Chandler attempted to buy up all of Hendrix's contracts, but he famously failed to uncover the Chalpin pact.
Not all of the PPX tracks predated Hendrix's work with the Jimi Hendrix Experience. He cut some studio tracks with Curtis Knight & the Squires in the summer of 1967, after the release of "Are You Experienced." Tapes from the session allegedly captured Hendrix telling his pal Knight and Chalpin that they couldn't associate any tracks with his name — but of course the recordings found their way to market that way.
The live Hendrix album "Band of Gypsys" — like "Get That Feeling" released on Capitol Records — came out of a settlement for Chalpin related to the 1965 contract.
Several court rulings over the decades limited Chalpin's use of the recordings to fewer than half — those on which Hendrix was an unknown sideman.
The Hendrix estate said the cream of the 99 recordings would be released over the next three years: "Legacy Recordings and Experience Hendrix plan on releasing these historic recordings — properly mixed, mastered and annotated — in definitive new editions, curated and remastered under the direction of Eddie Kramer."
The estate said some of the tapes held "vital and explosive exemplars of electric R&B and (were) essential components in Jimi's artistic evolution."
One recording singled out was a "mythic" 1965 live date at George's Club 20 in Hackensack, N.J. The Knight-Hendrix covers of the day's hits at that holiday gig included "Shotgun," "Ain't That Peculiar" and "Get Out of My Life Woman."
Another recording well known to the Hendrix hardcore is a loose knockoff of Bob Dylan's "Like a Rolling Stone" titled "How Would You Feel."
More Jimi Hendrix content: