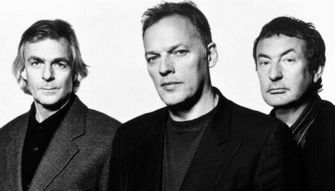 A "new" Pink Floyd album should be arriving in the fall, according to various media and social media reports. "Richard Wright's swan song" is called "The Endless River."
The album's genesis is in the "The Division Bell" sessions of 1994, meaning Pink Floyd does not include Roger Waters.
Polly Samson, the wife of guitarist David Gilmour, let slip the news on her Twitter account. Samson co-wrote many of the "Division Bell" lyrics.
Samson tweeted:
Btw Pink Floyd album out in October is called "The Endless River". Based on 1994 sessions is Rick Wright's swansong and very beautiful.

— Polly Samson (@PollySamson) July 5, 2014
Keyboardist Richard Wright died in 2008.
A representative for Gilmour confirmed the project's existence, Rolling Stone later reported.
The album's working title apparently was "The Big Spliff" but has since been changed to the Walmart-friendly "The Endless River."
Pink Floyd backup singer Durga McBroom-Hudson posted a photo of the Pink Floyd sessions and then chimed in:
The recording did start during 'The Division Bell' sessions (and yes, it was the side project originally titled 'The Big Spliff' that (drummer) Nick Mason spoke about). Which is why there are Richard Wright tracks on it. But David and Nick have gone in and done a lot more since then. It was originally to be a completely instrumental recording, but I came in last December and sang on a few tracks. David then expanded on my backing vocals and has done a lead on at least one of them.
The leaks come at a convenient time for Pink Floyd marketing, as the band has just released an ambitious expanded version of "The Division Bell." It's a multiformat box set featuring remastered discs. Included in the 20th anniversary box set are a Blu-ray with the album in HD stereo as well as a 5.1 audio mix. The set debuted July 1.
The Pink Floyd trio's "The Division Bell" received mixed reviews and it proved to be the band's last release of original material. Gilmour sang all of the non-instrumentals.
More Pink Floyd content: