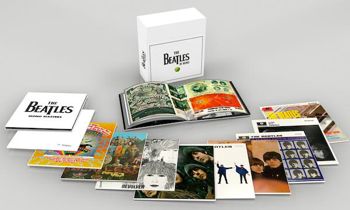 It's back to mono, again, for the Beatles, but this time there's a twist that's worth shouting about.
A September release is set for Apple's presentation of the vinyl box set "The Beatles in Mono." The difference, other than format, is the mono results from a pure analogue mastering sequence (AAA) — or at least as close as is possible in 2014.
There are 14 records, cut onto 180-gram vinyl, the weight of choice for most audiophile releases these days. They're being pressed in Germany. The covers are full size, with sleeve artwork "identical to the (U.K.) originals."
Those who come up with the $400 or so will get the nine British mono albums, plus the U.S. "Magical Mystery Tour." The non-album-track wrangling is done on "Mono Masters," a three-disc collection.
"Abbey Road" and "Let It Be" were stereo-only releases. "Yellow Submarine's" Beatles tracks are included on the "Masters" side 5.
Albums also will be sold individually, beginning Sept. 9. The box set, apparently limited in number, will include a large-format 108-page hardbound book. It promises "many rare studio photos … fascinating archive documents, and articles and advertisements sourced from 1960s publications." The notes are by Beatles regular Kevin Howlett, who worked on the 2009 rerelease campaign.
Creating the discs are Sean Magee and Steve Berkowitz (Miles Davis, Bob Dylan), who did their work at Abbey Road. The Fabs' press release says:
Working in the same room at Abbey Road where most of The Beatles' albums were initially cut, the pair first dedicated weeks to concentrated listening, fastidiously comparing the master tapes with first pressings of the mono records made in the 1960s.
The audio team "employed the same procedures used in the 1960s, guided by the original albums and by detailed transfer notes made by the original cutting engineers."
"Using a rigorously tested Studer A80 machine to play back the precious tapes, the new vinyl was cut on a 1980s-era VMS80 lathe."
Magee says: "We're trying to produce the original intention. … The equipment we have is different, so you have to approximate. … We then experiment. … Nine times out of 10 it's as near as the original as we can get."
Germany's high-end Optimal Media is pressing the discs for all countries.
The CD "Beatles in Mono" box set that came out with the re-do of the fabs' catalog in 2009 took heat for the extent that digital sources and technologies were employed. That release came well before the current explosion of interest in the vinyl format.
The Beatles and producer George Martin put most of their energies into mono mixes, doing stereo as an afterthought because it was initially a minor format for adults with money. The mono mixes therefore are considered the group's preferred presentations.
Magee said: "The band took an interest, everyone took a real interest, in the mono mixes — getting them exactly right — because everyone listened to the stuff in mono."
Mono albums lost their commercial viability about the time of "Sgt. Pepper" after stereo systems became widespread and most stereo recordings become mono-system compatible.
A 16-disc stereo vinyl box set came out in 2012.
Here are the vinyl Beatles albums in mono:
Please Please Me

With the Beatles

A Hard Day's Night

Beatles for Sale

Help!

Rubber Soul

Revolver

Sgt. Pepper's Lonely Hearts Club Band

Magical Mystery Tour

The Beatles aka White Album (two LPs)

Mono Masters (three LPs)
Here are the "Mono Masters" tracks:
SIDE 1
1. Love Me Do (original single nersion)
2. From Me to You
3. Thank You Girl
4. She Loves You
5. I'll Get You
6. I Want to Hold Your Hand
7. This Boy
SIDE 2
1. Komm Gib Mir Deine Hand
2. Sie Liebt Dich
3. Long Tall Sally
4. I Call Your Name
5. Slow Down
6. Matchbox
7. I Feel Fine
8. She's a Woman
SIDE 3
1. Bad Boy
2. Yes It Is
3. I'm Down
4. Day Tripper
5. We Can Work It Out
6. Paperback Writer
7. Rain
SIDE 4
1. Lady Madonna
2. The Inner Light
3. Hey Jude
4. Revolution
SIDE 5
1. Only a Northern Song
2. All Together Now
3. Hey Bulldog
4. It's All Too Much
SIDE 6
1. Get Back
2. Don't Let Me Down
3. Across the Universe
4. You Know My Name (Look Up the Number)
Pricing note: The Beatles U.S. store has the set cheaper than Amazon and you get a vinyl booster T-shirt. But be sure to factor in the shipping charge.
Gory detail: A fine "I was there" piece about the remastering can be found on Analog Planet.