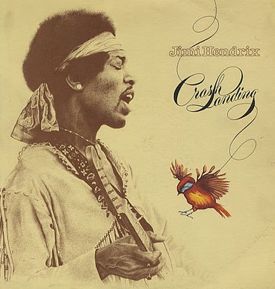 Alan Douglas, who oversaw the second wave of posthumous Jimi Hendrix albums, has died at age 82.
Douglas, a friend of Hendrix, recently co-created the book "Starting at Zero," which told the psychedelic guitarist's story in his own words.
Douglas remains a controversial figure in Hendrix circles, mostly owing to liberties taken during production work on the posthumous releases "Crash Landing" and "Midnight Lightning." His tenure with the Hendrix material lasted for about two decades, beginning in 1974.
Before that, Douglas was a producer of some note whose credits included jazz albums with Duke Ellington and Charles Mingus ("Money Jungle"), John McLaughlin and Eric Dolphy. He worked with LSD guru Timothy Leary on a book and album (on which Hendrix contributed some licks) and packaged performances of Lenny Bruce. He also produced the pre-rap act the Last Poets.
Douglas has been credited with introducing Hendrix to jazz heavyweights such as guitarist McLaughlin, Miles Davis and Gil Evans. He and Hendrix met at Woodstock and did some studio work together ("Nine to the Universe").
After Hendrix's death, working for Warner Bros., Douglas sorted through a trove of Hendrix's unused studio work of the late 1960s. The producer decided to rerecord some of the backing tracks with contemporary musicians who had not worked with Hendrix. Among the musicians whose work was wiped were Hendrix regulars Billy Cox, Mitch Mitchell, Buddy Miles.
Douglas said the original tracks were unreleasable, and ended up taking co-writer credits for much of the first album, "Crash Landing."
Fans and rock historians were outraged, but the albums had their admirers. Rock critic Robert Christgau found the session guys did a "surprisingly competent job."
Douglas' official bio reads: "Mitch Mitchell would later confirm that some of the original playing had been sub-standard, and Alan had made the right decision in hiring session players to correct this. Nearly forty years later, and perceptions have altered a great deal."
Many of the tracks appeared on album releases shortly after Hendrix's death, but had gone out of print as a result of legal wars. In later years, some of those original tracks used by Douglas found their way into the market in their original form, on albums put out by the Hendrix estate.
Showing more fidelity to the original recordings, Douglas also produced the 1994 compilation "Blues" and the 1995 album "Voodoo Soup," which was a first stab at reconstructing Hendrix's planned "First Rays of the New Rising Sun."
Douglas and Peter Neal collaborated on a full-length documentary film about Hendrix, like the "Starting at Zero" book initially titled "Room Full of Mirrors." The two projects date back to 1990, but legal hassles dragged on for almost 20 years. The film remains unreleased. The book came out last fall to generally good reviews.
Douglas died in Paris after complications from a fall, the New York Times reported.
More Jimi Hendrix content: