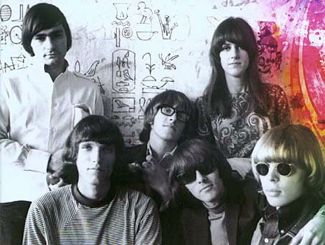 Seeking to feed your head — and their wallets — Jefferson Airplane has entered into a global licensing deal for psychedelic goods.
"We plan to capture the essence of the band to deliver a unique licensing program reminiscent of (the '60s), yet relevant for today's consumers," said Dell Furano, CEO of the company Epic Rights.
The Airplane seeks to follow in the licensing footprints of its Bay Area colleagues the Grateful Dead, who have put their name and logos on everything from board games to sports jerseys to wine.
Epic Rights, a new licensing operation, plans to use both the Airplane's album art and "its rich photographic imagery into a broad range of consumer products and services to be released in conjunction with the bands 50th anniversary celebration in 2015."
Singer Grace Slick and longtime Airplane manager Bill Thompson own the group's rights, but bandmembers Paul Kantner, Jack Casady and Jorma Kaukonen will share in royalties, the Hollywood Reporter said.
The company told the Reporter that the trend toward legalized marijuana made the time right for Airplane gear, specifically products linked to the White Rabbit character from its best-known song.
Marty Balin and Kantner started the band that would become Jefferson Airplane in the summer of 1965, with Signe Toly Anderson on vocals. She left a year later and the Great Society's vocalist Slick took her place, leading to the recording of the psychedelic music classic "Surrealistic Pillow" in late 1966.
Specific products weren't discussed, but Epic noted the potential in the band's "imagery and fantastical array of colors tap into apparel, accessories, home décor, stationery/paper goods, collectibles, gifts and novelty and publishing."
Epic cited the famous album covers from the psychedelic era — "Surrealistic Pillow," "After Bathing At Baxter's," "Crown of Creation" — as "amazing works of art."
Jefferson Airplane splintered in the late 1960s, but continued in various configurations as Jefferson Starship and Starship. Singer-songwriter Kantner continues to tour with Jefferson Starship as the sole remaining member from the original Airplane.
Furano's company is relatively new, but he worked with the Winterland organization in San Francisco.