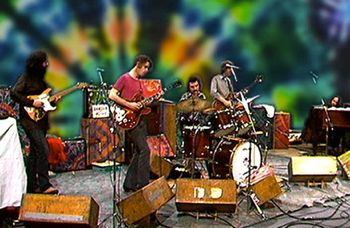 The Grateful Dead Meet Up 2014 is set for July 17, with cinemas nationwide unspooling a performance from the legendary 1972 European tour.
The show wasn't optimal — an audience-free TV gig at Germany's Beat Club that draws shrugs and mixed reviews from most bootleg wags. Still, the audio appears to be reworked and the lineup includes Ron "Pigpen" McKernan just two months before he left the band for good.
The promoters, as usual, are Fathom Events and Grateful Dead partner Rhino Entertainment.
The program is listed as running 1 hour 40 minutes. You can find a cinema via the Fathom Dead Meet Up event page. (Oddly none is to be found in San Francisco.)
The July 17 screenings include an "exclusive" documentary on the making of the box set "Spring 1990" featuring mastering engineer Jeffrey Norman and Bob Weir.
Promoters say the German show was "never officially released and never before seen in its entirety."
Songs performed that day in Bremen included "Loser," "Bertha," "Mr. Charlie," "Beat It on Down the Line" and "Black Throated Wind." The centerpiece is a 23-minute "Truckin'/The Other One."
The "Beat-Club" German music series ran from 1965 to late 1972. Artists included the cream of U.K. rockers such as Led Zeppelin, David Bowie, the Moody Blues and Cream. VH1 Classic and a Beat Club YouTube channel among the current outlets for archived shows. The series often augmented performances of the late 1960s with psychedelic visual effects.
Last year's Meet Up featured the then-unreleased Grateful Dead movie "Sunshine Daydream," capturing the band later in 1972, a year largely considered the peak of the band's performing career.